Things to consider when planning a stage set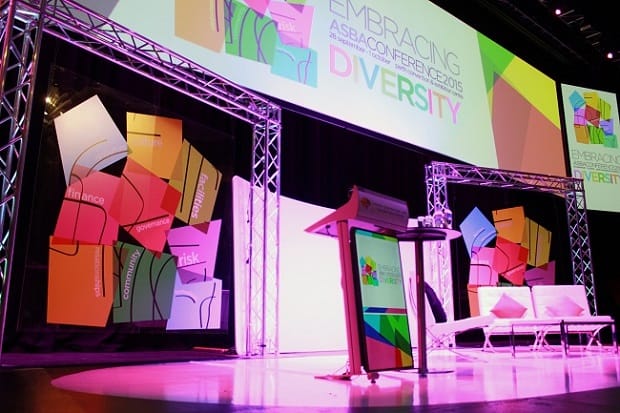 An outstanding stage can really bring an event to life. A stage is the focal point of an event, so it should reflect your theme and purpose, and should be eye-catching enough to maintain your guests' attention. There are several things to consider when planning a stage set. Here are five:
Practicality
Staging is all about using space wisely to create a focal point, to express brand messaging and to enhance performances or speeches. There are a few basic rules for making a stage functional. It needs to be easy to navigate for the people using it – think of how your entertainers and speakers will get on and off the stage during your event. In order to ensure the smooth running of stage performances and appearances, make sure to create a simple layout and have a clear entry and exit point. It's also important to consider the positioning of the stage. Remember, it will need to be viewable from every section of the event space to maximise the experience for all guests.
Budget
The stage is the section of your event space that will be viewed the most by your attendees throughout your event, so it's important to make it memorable and engaging. Your stage set should be given enough consideration and budget to make it spectacular.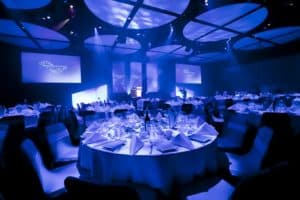 Customisation
Think outside the box. A stage doesn't have to be a rectangle fixture on one side of your event space. It could be a round structure in the middle of the room. It could be an aisle running directly through the seating plan. The more unique your stage design is, the more likely it will wow your guests and create an event to remember.
Branding
As the focal point of your event, your stage can be used as a branding mechanism. Include the right colours, lighting and decor to reflect your branding so that you can build awareness for your business and make a real impact on your guests.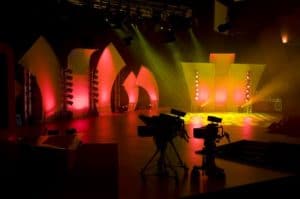 Technology
Your stage set should have a layout that can accommodate your lighting fixtures, your screens and the event's entertainers and speakers. It should be positioned so that your audio can fill the event space without anything obstructing it. Consider all viewpoints if setting up a screen and use lighting strategically to convey your branding and to wow your guests.
Talk to us today to find out how you can create an outstanding stage set at your next event.
https://www.avpartners.com/wp-content/uploads/2018/05/asba_conference_2015_-_1-1.jpg
413
620
AVPartners
https://www.avpartners.com/wp-content/uploads/avp_logo.svg
AVPartners
2018-05-16 14:54:40
2018-05-16 14:54:40
Things to consider when planning a stage set