Case Study: Creating the carnival that is the Audi Hamilton Island Race Week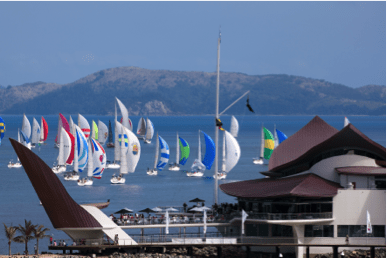 Hosted on Hamilton Island, located at the gateway to the Great Barrier Reef, Audi Hamilton Island Race Week is the largest offshore yachting regatta in the southern hemisphere. First held in 1984, it has evolved into the not-to-be-missed event on the international sailing calendar.
The event's beautiful Whitsundays' courses attract the sailing elite, and caters for the full spectrum of keelboats – from non-spinnaker cruising yachts through to Grand Prix level racers.
Keeping not only the sailors and their family and friends returning year after year, but also attracting travellers in search of a unique winter getaway, is the impressive shore-side social calendar.
Over the past three decades, the event has evolved into a spectacular display of on-water racing, paired with the finest cuisine, glamorous parties, flowing champagne and celebrity guests.
Because of this growth, in 2007 Hamilton Island Enterprise decided the business needed support to ensure everything associated with Audi Hamilton Island Race Week ran smoothly. This included complete event support from audiovisual lighting and themed dinner settings, to celebrity fashion designer exclusive parades and headlining music acts.
To achieve the aim of creating a carnival-like atmosphere for the event, Hamilton Island Enterprise contracted AVPartners to provide audiovisual support for conferences at the location and professional technical assistance for delegates.
Over the years, AVPartners has set up concert stages for the likes of The Angels, Anthony Garcia, Jon Stevens, Diesel, James Reyne, Lisa Hunt, Jo Camilleri and The Hoodoo Gurus as well as event lighting and floating pontoons for Audi car displays, a Collette Dinnigan fashion parade and screen celebrity chef master classes live via outdoor LED video screens.
"Audi Hamilton Island Race Week has grown onshore with the inclusion of celebrity chef dinners and luncheons and fashion parades including Little Joe, Henry Lloyd and Collette Dinnigan," said AVPartners Hamilton Island Partner, Jarum Rolfe.
While the sailing regatta is the centrepiece for Audi Hamilton Island Race Week, the addition of non-aquatic events have broadened the week's appeal and helped turn it into an occasion that is marked on calendars internationally.
"With the increase of events off the water, we have been able to provide the special event team with a large range of modern technologies to put a real edge on their events," explained Mr Rolfe.
Audi Hamilton Island Race Week awards are hosted in the Hamilton Island Conference Centre, the largest conference venue on the island, with space to accommodate up to 1,000 delegates for conferences, product launches, exhibitions and incentives.
Hamilton Island Business Events Manager, Julie Ford, said the atmosphere created around the regatta event has attracted attention from international guests, celebrities, entertainers and the media, in addition to the already dedicated nautical following.
"AVPartners has a huge amount of involvement in making the week as special as it is with the range of colours, lighting, band equipment, staging and a general presence over the week," said Ms Ford.
"We couldn't do it without AVPartners. They assist with pretty much every set up during Race Week, whether it be for large bands, extravagant dinner settings, fashion parades or small unique outdoor dinners. Hamilton Island is a unique destination for such a large event and everything is contained within the island, which makes it even better," added Ms Ford.
The next step is to keep growing Audi Hamilton Island Race Week, wowing guests every year with more spectacular performances, events and impressive audiovisual and lighting displays.
Mr Rolfe said, "The hype around the week continues to grow and the desire to create an extraordinary event each year drives both Hamilton Island Enterprise and AVPartners."
"You have everything at your doorstep jam-packed into 10 days: food and wine events, fashion, live bands, featured shopping, family-friendly activities, onshore games for yachties and their families and of course the on-water races every day!" said Mr Rolfe.
"Hamilton Island Enterprise and AVPartners work alongside each other well to create fantastic events. AVPartners add the wow factor to our events," added Ms Ford.
https://www.avpartners.com/wp-content/uploads/2014/12/Race-Week.png
258
387
admin
https://www.avpartners.com/wp-content/uploads/avp_logo.svg
admin
2014-12-03 14:07:57
2015-04-29 19:50:29
Case Study: Creating the carnival that is the Audi Hamilton Island Race Week