How to hold a successful seminar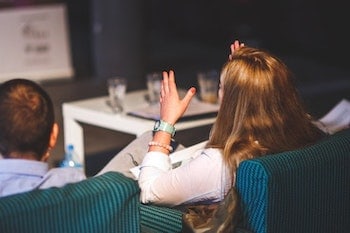 So, you'd like to run a seminar. How can you make it a success?
If done effectively, holding a seminar can help you to build thought leadership and boost credibility for your brand. It can also increase brand awareness and attract more leads to your business. The more people who learn about your expertise and hear about your brand, the more chances you will have to engage new customers.
What is a seminar?
A seminar is a type of gathering that involves discussions and learnings on a chosen subject. It provides a great opportunity for like minded people to gather and build their knowledge on a particular topic of interest.
For brands, running a seminar can be an effective way to gather prospective customers or clients in the one room and share your expertise with them.
So how can you run a successful seminar?
Determine your purpose
When organising a seminar, the first thing you'll want to establish is your purpose. Why are you holding the seminar? Is it to build thought leadership? Drive more people to your offering? Educate people about a particular topic pertaining to your brand and industry? Chances are your seminar will be able to achieve all of these things. You'll just need to set your objectives from the get-go.
Select the right topic
The more interesting your topic is, the more likely it is that people will attend your seminar. An effective topic will explore a problem that members of your target audience have in relation to your industry or product. If your topic is too broad, there might be other seminars that you'll have to compete with. If your topic is obscure, you'll limit your potential audience pool.
Choose the right venue
Cost, size and location are the main things to think about when selecting a venue. A central location might be best to attract attendees. You'll want to make sure that the space is big enough to seat all of your guests. It's also important to consider proximity to public transport, accessibility for guests in wheelchairs, branding capabilities and technical infrastructure at the venue.
Select the right AV team
One of the most important components of a successful seminar is your AV. Without effective screen projection and sound, your seminar can easily fall flat. It's important to select an AV team that is both professional and maintains the right technology and equipment to keep your mind at ease throughout the duration of your seminar. An AV team like AVPartners can help with ensuring your audiovisual setup is perfect on the day. They can also assist with live streaming your seminar or with styling to give your seminar a unique flair.
Make networking easy
Networking at professional events can sometimes be a little awkward for attendees. To make it easier for your guests, consider running some icebreaker games. This is a good way to encourage conversation amongst your attendees. It's also a great way to break up your agenda and avoid information fatigue.
Spread the word
Once you've organised your topic, written your agenda and hired your AV team, you'll want to get the word out. There are many ways to promote your seminar online. Some of the best ways are to create listings on event sites, create an event on Facebook or Eventbrite, engage the media or develop a landing page on your website with your event details and agenda.
If you would like help running your next seminar, AVPartners can help. Contact us today.
https://www.avpartners.com/wp-content/uploads/2018/09/advice-advise-advisor-6385-copy-1.jpg
233
350
AVPartners
https://www.avpartners.com/wp-content/uploads/avp_logo.svg
AVPartners
2018-09-30 13:03:59
2020-06-15 13:07:57
How to hold a successful seminar