How a destination conference can invigorate your guests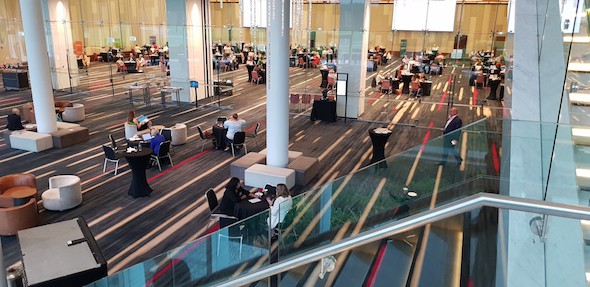 Hosting a destination conference can create a memorable experience for your attendees. It can energise your guests and really drive your event messaging home. Here are a few reasons why a destination conference is a great option for your next event.
There are fewer distractions
Attending a destination conference means guests won't have distractions from their daily routines like commuting to work, errands and chores. Instead, they will have a clear mind for taking in what your conference has to offer.
Guests are more dedicated
Guests attending a destination conference will have made a commitment to travel there. This extra level of commitment can translate to more engagement with your event program.
It can double as a holiday for your guests
The destination you choose can work as a big drawcard for people all across the country (and world) to attend your conference. Selecting a location that is a common holiday destination means guests can plan a vacation before or after your conference.
It's more memorable
Being in a new setting can really make your event unique and memorable. Taking your guests away from their normal day-to-day routine and into a new location will create a new and exciting experience for them – and make your destination conference an event to remember.
It encourages a new audience to attend
If you're hosting a conference that is open to the public, picking a destination away from your local area is a great way to encourage a wider audience to attend and tap into a new customer pool. Guests living near your chosen destination might be more likely to attend, as well as those from across the country (or world).
You can impress your guests
Choosing the right venue can really impress and rejuvenate your attendees. Choosing a venue with impressive styling, facilities and state-of-the-art technology can wow your guests and make your event memorable. AVPartners has venues all across Australia, providing expert audiovisual and styling for spectacular event experiences.
If you would like to host a destination conference, take a look at AVPartners' venues or contact us today for more information.
https://www.avpartners.com/wp-content/uploads/2018/10/conference.jpg
287
590
AVPartners
https://www.avpartners.com/wp-content/uploads/avp_logo.svg
AVPartners
2018-10-08 12:02:16
2020-06-15 13:07:57
How a destination conference can invigorate your guests