As the main event of any conference or business gathering, keynote speakers carry the weight of delivering a message that's inspiring, engaging, and memorable. However, no matter how excellent the content or charismatic the speaker, the success of a keynote presentation often hinges on the effectiveness of its audio-visual (AV) setup. Well-executed AV components not only enhance the speaker's delivery but also create an immersive experience for the audience. Here, we share our top tips for leveraging AV to ensure a successful keynote presentation.
Optimal Sound Quality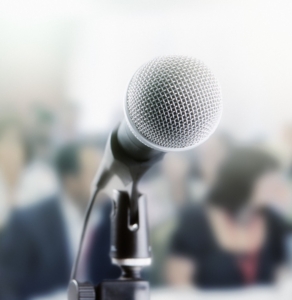 The importance of sound quality cannot be overstated. If the audience struggles to hear or understand the speaker, the message will be lost. Depending on the size of the venue, you may need to use a lapel, handheld, or headset microphone and mastering the use of a microphone is crucial for effective speech delivery. Here are some key strategies to master microphone use:
Project your voice: The microphone is a tool to enhance, not replace, your vocal strength. For engaging communication, ensure you are using your full voice
Mind your distance: Position yourself correctly – microphones are designed to capture your voice when it flows over or across them.Getting too close could distort your audio output
Posture and positioning: Stand upright, project your voice above the microphone, and move with your shoulders, not your head. This approach ensures consistent audio levels and aids in preventing volume fluctuations
Avoid microphone mishaps: Tapping or clapping into the microphone can create amplified sounds that might startle your audience. Steer clear of such practices.
By adhering to these guidelines, you'll maximise your chances of delivering a clear, compelling, and unforgettable presentation.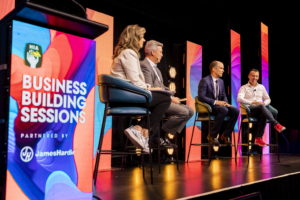 High-Quality Visuals
Visuals form the backbone of any engaging presentation. It's essential that every image, graphic or video is of superior quality, crystal clear, and visible from all corners of the venue. In recent years, LED screens have emerged as a popular choice due to their ability to display high-definition imagery that truly captivates audiences. Not all venues will have an LED Screen, however if one is present, consider optimising your content for LED screens by incorporating dynamic elements such as videos, animations and moving visuals that add an extra layer of interest and engagement.
Furthermore, consulting with your AV organiser is advisable to ensure your presentation is in the appropriate format and to determine the number of screens available.This valuable information allows you to design your presentation for maximum impact, making strategic use of visual aids. By carefully planning and utilizing visuals effectively, you will deliver a presentation that leaves a lasting impression on your audience.
Accessibility and Inclusion
Incorporate AV solutions that make the presentation accessible to all attendees. This may include closed captioning or sign language interpreters for hearing-impaired audience members or providing a descriptive commentary for visually impaired attendees.
Pre-event Technical Check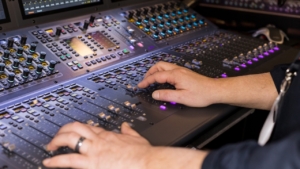 Before the event, setting up a rehearsal with the AV team is highly recommended. This hands-on session will serve as an opportunity to validate the sound clarity and volume of the microphone, as well as preview the slides on the presentation screen to ascertain their visibility and impact. Additionally, it provides an opportunity for the speaker to get comfortable with all AV components they'll be using, be it a clicker for advancing slides, a spotlight tracking their movement on stage, or the location of the preview slides monitor. Undertaking this step allows the speaker to become familiar with the AV setup and increases the likelihood of a smooth, confident presentation.
On-site Support
During the presentation, it should be arranged that the AV team is present to provide real-time technical support, ensuring that everything runs smoothly. They can manage audio cues, control visual elements, and troubleshoot any unforeseen technical challenges. Their expertise allows you to focus on delivering your message without worrying about the technical aspects.
---
The success of a keynote presentation is dependent on both the delivery and the careful preparation around the AV setup. Understanding the technical requirements, collaborating with the AV team, and leveraging their support on the day of the event all contribute to a smooth and impactful presentation. By paying attention to these factors, you can ensure that your keynote presentation captivates the audience and leaves a lasting impression.
https://www.avpartners.com/wp-content/uploads/2023/06/keynote-speaker-2-Medium.jpeg
360
640
admin
https://www.avpartners.com/wp-content/uploads/avp_logo.svg
admin
2023-06-07 12:14:13
2023-06-07 12:17:35
Essential AV Tips for Keynote Speakers