Gone are the days when a projector's main purpose was to light up a white wall in a meeting room and project onto it with boring words and graphs.
Projectors are now a huge part of the events industry, and it's easy to see why! Projecting images, logos, graphics and information onto surfaces not only looks impressive, but also brightens event spaces and can complement your event theme. The options are endless when it comes to creatively planning your event projections.
Here are some of our favourite creative uses of projectors at events:
Creating digital visuals
One of the most common ways to use a projector is to simply project imagery or graphics onto the wall. An example below from our Sofitel Brisbane Central venue shows that this can be utilised in a large format, so it's a great way to showcase a lot of images or make one stand out. Unlike traditional artwork on canvas, projected images can be changed continually throughout the event, thus changing and enhancing the mood, theme or event message.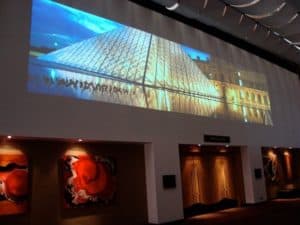 Enhancing your branding
Another one of our favourites is to project a business or brand's logo onto a surface area. This is such a great way to give your brand extra exposure at the event, and can create a feeling of luxe exclusivity. Below is an example of this in the lobby at our Sofitel Brisbane Central venue.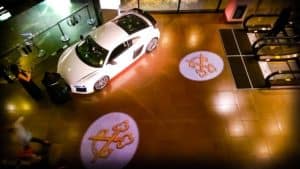 Video projection and projection mapping
The projection fun doesn't stop at images – we can even project videos onto surfaces! This can be done by simply projecting a video onto a wall, or it can be a source of entertainment in and of itself by using projection mapping. Projection mapping essentially 'maps' out the surface area of where the video will go, usually over odd and irregular shapes, before a detailed projection is showcased on the object. It's the same technology used in Sydney's Vivid lights festival.
Our team at Perth Convention and Exhibition Centre (PCEC) recently did a fantastic job projection mapping a St John's ambulance, and wowed guests at their conference. They positioned two 'unbranded' ambulances in the room on either side of the main stage and projected an animated "multi-stickered" ambulance image onto the vehicles.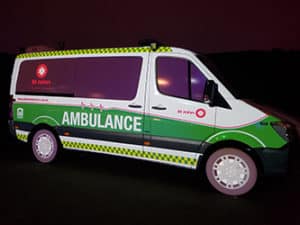 To see it come to life, check out the video on PCEC's site.
If you're keen to include this technology at your next event, contact us today!
https://www.avpartners.com/wp-content/uploads/2017/02/event-644537_1920-1.jpg
399
600
AVPartners
https://www.avpartners.com/wp-content/uploads/avp_logo.svg
AVPartners
2017-02-22 11:37:39
2017-02-22 11:37:39
3 creative ways to use a projector at your next event