How to style your event to impress your guests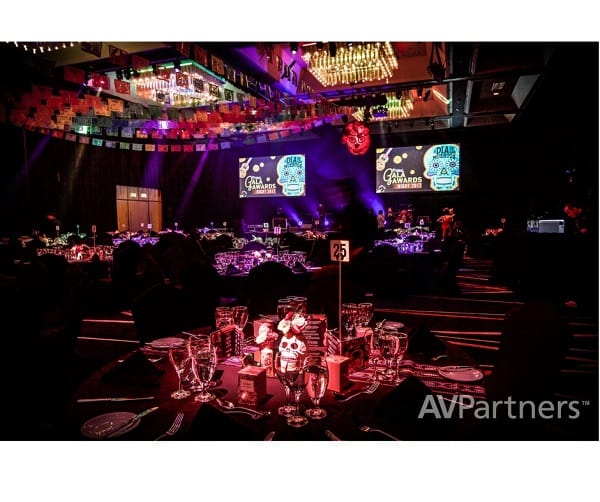 Styling an event can be the most exciting part of event planning! This is where you get to choose the look and feel of your event. It's an important part of the event planning process as it lays the foundation for how guests will experience the event.
At AVPartners we've helped create nearly every event theme or style you can think of – from the Oscars, to Great Gatsby, Moulin Rouge, Masquerade and many more. Event styling incorporates furniture, decor, centrepieces and table layouts, props, audiovisual and digital elements. It takes your guests on a journey, showcasing your theme, your branding and your ideas.
We've wrapped up some of our best blog posts to help you style and impress your guests at your next event:
Use colour creatively
When deciding on the styling for your event, it's important to consider the role that colours play in creating atmosphere. The colours you choose, be it for your decor or your lighting, say a lot about your event message, brand, and theme. Colours can leave your guests with an even deeper appreciation of your event.
Wow your guests
What type of centrepieces will wow your guests? Special consideration should go into all visual aspects of your event, big and small. Including customised lighting, such as gobo lighting, to match the theme or style of your event is a simple yet hugely effective way to make a difference to the overall look and feel.
Use a set piece
A set piece is a backdrop added to a stage for a production or event. It can vary from a simple branded backdrop right through to sophisticated projection mapping. The only limit is your imagination! A set piece can also help with a quick room turn around depending on the venue. For example, a band can be pre-set behind a set piece. Set pieces allow for a visual transformation sure to impress event delegates and make for easier and more impactful transitions between event elements.
Let us help style your next event! Contact us today.
https://www.avpartners.com/wp-content/uploads/2017/06/Blogpost-Image-1-1.jpg
502
600
AVPartners
https://www.avpartners.com/wp-content/uploads/avp_logo.svg
AVPartners
2017-06-14 18:17:33
2017-06-15 18:18:15
How to style your event to impress your guests