Event trends you need to know about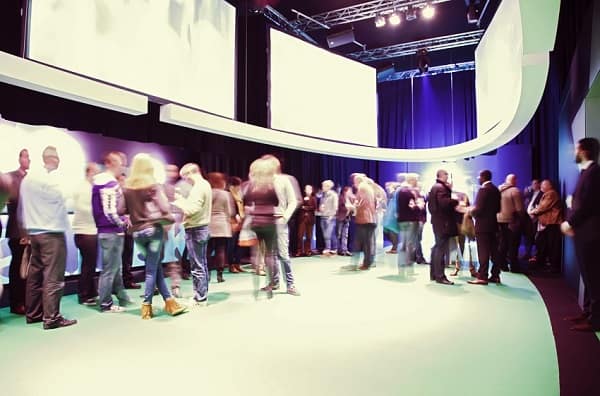 Are you planning to hold an event next year? If so, you're probably hoping that it's an interesting and engaging one, and that everyone has a great time. One thing to consider when it comes to planning interesting events is what is 'on trend' at the time.
There are so many unique ways to impress your guests and give them a talking point during and after your event.
Here are our favourite event trends for 2017:
Creative catering
Unique catering is a great way to stand out and impress, and you can also use it to brand your event. Elements such as signature cocktails using your brand's colours, or desserts with edible rice paper logos or messages on top, are interesting ways to get creative with catering.
The extreme dessert trend is likely to continue into 2017, with dessert walls (think donuts and Nutella) becoming part of the decor!
Personalisation
People want more than the standard cookie-cutter event, so they're looking for more personalised options when they scout their venues and plan their events. The possibilities for personalisation are endless, with more simple things such as personalised email or app communications to guests through to more complex data driven elements such as tailoring events to the individual based on their reactions on social media.
According to a study by Eventsforce, personalisation is a key priority for 82% of event planners, with 97% saying they believe that event personalisation can change a guests perception of your brand or event.
Audiovisual technology also plays a huge part in personalisation of events. Lighting effects, colours and staging options can all contribute to a more tailored event. At AVPartners we pride ourselves on fully understanding our client's event and design briefs so that we can deliver on a completely unique and successful event.
Digital interaction
More and more we are seeing that event planners are embracing digital channels to reduce costs, to be more environmentally conscious and to better engage guests. There are so many interesting ways to deliver information at your event digitally rather than expecting guests to take notes constantly or handing out paper. Examples include leveraging an event app, providing a digital handout via files made available on a USB or having notes delivered by email.
Video content
We all keep hearing that video is the future, and in 2017 we will see a greater role for video at events. One example of where video is being used effectively is through the live-streaming of events. This is where an event is filmed and delivered to online viewers in real time, so that they don't miss out and can be part of the action as it unfolds. Usually this footage can then be packaged up and shared on a business' website or social media, or used in-house.
It's important to note that you don't need to go overboard with event elements to create an impact. Choosing just one or two ideas and exploring how they can meet your business and event needs will be enough to impress.
Talk to us to start planning your 2017 events!
https://www.avpartners.com/wp-content/uploads/2016/12/AVP-blog-image-smaller.jpg
396
600
AVPartners
https://www.avpartners.com/wp-content/uploads/avp_logo.svg
AVPartners
2016-12-14 08:25:54
2016-12-21 12:26:50
Event trends you need to know about