AVPartners, a premier audiovisual company in Australia, is delighted to announce the installation of a groundbreaking ultra-wide, stage-to-ceiling, LED screen in the renowned ballroom at the Four Seasons Hotel Sydney. As an industry leader known for its innovative and superior quality offerings, AVPartners is once again pushing the boundaries to redefine the visual experience in the event industry.
In 2017, AVPartners pioneered the first installation of an ultra-wide LED screen in an Australian ballroom setting at the Four Seasons Hotel Sydney. Despite initial uncertainties, this pioneering move proved prescient. Over the years, clients have showered praise on this immersive technology that offers a superior experience to traditional projection and screen setups.
Fast forward to 2023, and AVPartners is once again at the forefront of innovation, introducing a stage to ceiling LED screen, aptly named "Immersive Infinity," along with an AI camera tracking system. This stunning visual backdrop measures an impressive 16m x 4m, offering an unmatched immersive experience. Speakers now have the opportunity to truly immerse themselves within their presentations, creating a dynamic and inspiring visual narrative for their audiences.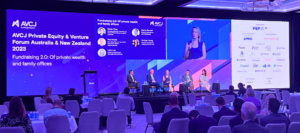 The state-of-the-art AI camera tracking system offers precise tracking of presenters on stage, automatically following their movements and adjusting focus as needed. This innovative technology enables attendees to focus more on the content of the presentation, eliminating potential distractions from manual camera operations.
The ultra-wide LED screen is also designed with flexibility in mind. Mounted on a sophisticated tracking system, the screen can adapt to meet any event requirement. From splitting and joining to create multiple screens or banners, to creating walk-through doorways under the LED screen, the technology can transition smoothly from a conference setting to a gala at a moment's notice.
"Our LED screen goes beyond size; it's about enhancing the overall event experience with vibrant, ultra HD visuals and automated interactivity," said AVPartners partner Nigel Taylor. "We're confident that this will greatly improve the visual atmosphere and engagement of events at the Four Seasons Hotel Sydney."
The ultra-wide LED screen and AI camera tracking system are now available for use at all events hosted at the Four Seasons Hotel Sydney.
https://www.avpartners.com/wp-content/uploads/2023/06/VW-Launch-Event.jpg
720
1600
admin
https://www.avpartners.com/wp-content/uploads/avp_logo.svg
admin
2023-06-21 13:37:21
2023-06-21 13:43:09
Immersive Infinity: AVPartners Unveils Immersive Ultra-wide LED Screen at Four Seasons Hotel Sydney