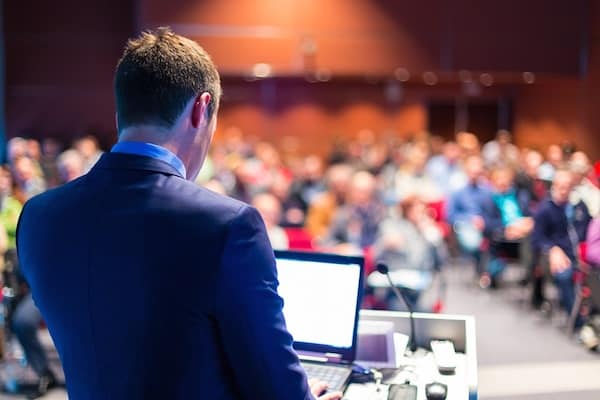 Events are a great way to bring people together, and share a moment, message or idea with a captive audience. They do, however, take considerable time, effort and organisation to execute successfully.
When deciding whether to hold an event, the first step should be to ask why you're holding the event. This will help you get to the heart of whether an event will be valuable and help you achieve your goals. Here are some of the common reasons organisations hold events.
To build brand awareness
Events bring people together at the one location at the one time, giving you focussed time you can utilise to build brand awareness around your business with target audiences. You might make a presentation highlighting your services, or hold a workshop that builds on your thought leadership, making you a respected and trusted person within your industry.
To humanise the business
It's usually quite fun and interesting to meet the people behind certain brands, so make sure you give your customers or clients what they want by introducing yourself and letting them know that there are real people in your business. It's also a good time to thank customers and clients for their support, and offer to answer any questions they have or help them in some way if you can. People buy from people, so make sure your business is real and authentic.
To provide networking opportunities
Events are a great way to expand your connections, gain new clients, customers or referrals, and also to show your existing customers or clients what else you can offer them. It's also an excellent way to meet like-minded individuals in your industry, and you never know where those relationships may lead!
To fundraise
For not-for-profit and charity organisations events are a perfect way to do drive fundraising efforts. They offer a controlled and focussed environment for you to spread the word and incite empathy and curiosity in attendees.
To launch a new product or service
New products or services are a cause for celebration! Events can allow you to inform guests of this, offer demonstrations, or give away samples. It gives your potential customers a chance to interact with your product or service in person, and in a fun and upbeat atmosphere.
To recognise and reward
Awards ceremonies are a very common type of event to hold, and a fantastic way to recognise your team or others for their hard work. Recognition is always appreciated, and usually makes for a more loyal team.
To offer a face-to-face communication experience
Too often in this digital world, we lose that personal, human interaction. While the internet has opened up a world of possibilities, the feeling of being in front of someone; having a conversation and sharing a laugh, can't really be replicated online.
So, now that you know some of the reasons and benefits of holding events, you might be wondering just what type of event suits your business. Events vary in style, size and outcome, but some common event types include a sit down dinner, a fundraiser, an awards ceremony, a cocktail party, or a conference. You might like to read more about which events really engage your customers or clients, or how to know which conference type suits your business.
Once you're ready to start planning your event, ensure you have a solid timeline in place. For tips on this, check out how long it takes to plan an event.
At AVPartners, we love to help bring your event dreams to life! Speak to us today and let us know your ideas.
https://www.avpartners.com/wp-content/uploads/2016/11/Resized-copy-1.jpg
400
600
AVPartners
https://www.avpartners.com/wp-content/uploads/avp_logo.svg
AVPartners
2016-11-04 08:02:24
2017-05-15 18:15:41
Why hold an event?