How to deliver engaging presentations at your next event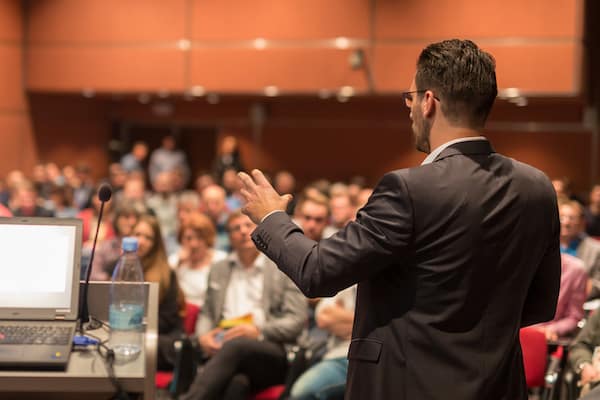 Whether you're delivering a keynote speech, running a seminar, or doing a panel discussion, it is likely that your top priority is to keep your audience engaged. Without an engaged audience, your messaging simply will not cut through. Luckily there are many ways to make your presentations more engaging.
In addition to using humour, the right body language, and practicing over and over in front of the mirror,  there are a few ways to ensure your presentations grab the attention of your audience and keep them engaged. Here are a few:
Be a storyteller
People engage with things that they can relate to. By telling stories instead of reciting reams of information you can communicate ideas in a personal way. Storytelling can help you connect with your audience on a human level. While storytelling is an effective technique for engaging audiences, it's important to keep the story relevant to the event theme and purpose so that you can drive your message home.
Make sure the audio is perfect
There's nothing worse than a speech that doesn't fill the entire event room. Muffled and delayed audio are two of the biggest culprits in breaking an otherwise great presentation. Working with a professional AV team with state-of-the-art technology can really put your mind at ease leading up to and during your presentation.
Use second screen technology
Smartphones can sometimes be a distraction for people at events. So why not incorporate them into your presentation and make them work for you rather than against you? Second screen technology makes use of people's smartphones to enhance what is being delivered on the primary event screen. It's a great way to make your presentation interactive and encourage audiences to connect with your content.
Get the staging right
Styling and staging is what people will see surrounding you during your delivery. In other words it's like the framing of your presentation. For this reason, the staging should support what your presentation is about. It should reflect the theme of the event and help enhance what you have to say. This can be achieved by installing branded posters, using eye-catching decorations or even positioning yourself strategically on the stage to grab the attention of your audience.
Light it up
If executed well, lighting can make a presentation lively and eye catching, but if it's executed poorly, it can make it drab or even worse, distract from your presentation. Lighting should help, not hinder your presentation, so make sure the lighting isn't reflecting in a way that will form a distraction from your delivery – like off the podium, jewellery that you're wearing, or your glasses! If you're looking to add that something special to your next event, gobos are one of the most striking, versatile yet affordable lighting options. A gobo is essentially a stencil cut out of glass or metal, that is then positioned between a spotlight and the area you want lit, creating a unique projected shape. A professional lighting team like AVPartners can bring your presentation to life through effective and professional audiovisual.
Be colour conscious
It's important to consider how the use of colour can create varying experiences during your presentation. Blue for instance, can create a calm atmosphere and is said to promote clear thought, while red can stimulate the mind and promote action.
If you would like help setting up your next presentation for success, contact AVPartners.
https://www.avpartners.com/wp-content/uploads/2018/11/shutterstock_721432717.jpg
400
600
AVPartners
https://www.avpartners.com/wp-content/uploads/avp_logo.svg
AVPartners
2018-11-14 09:58:56
2020-06-15 13:07:56
How to deliver engaging presentations at your next event